Morsettiere di potenza passo 17,5 mm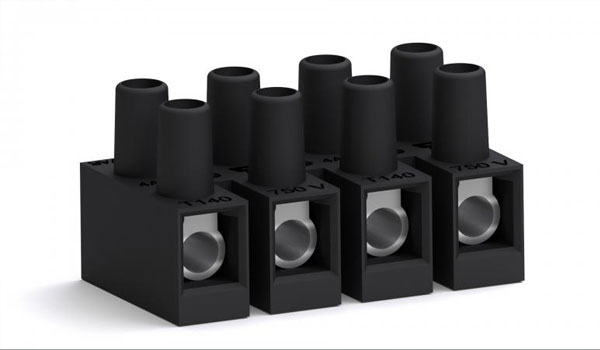 Serie 328
Morsettiere di potenza, passo 17,5 mm
Morsettiera di potenza (personalizzabile) da pannello ideale per quadri elettrici di comando e controllo. Questo modello può esser fissato sia internamente che con un lato accessibile dall'esterno del quadro elettrico.
La qualità del nostro prodotto – made in Germany – è assoluta: tutte le viti di fissaggio sono testate al 100%, pre-avvitate a fine corsa e riportate poi, tutte, nella posizione iniziale.
A 17.5 mm pitch I/O terminal block
Panel terminal block (customizable) ideal for electrical command and control panels. This model can be fixed both internally and with one side accessible from the outside of the electrical panel.
The quality of our product – made in Germany – is absolute: all the fixing screws are 100% tested, pre-screwed at the end of the stroke and then returned, all of them, to their initial position.
Corrente nominale
 
101 A
Current rating

---

Tensione nominale
 
750 V (acc. to EN 60998-1)
Voltage rating

---

Corpo isolante
 
Polyamide PA 6/66, UL 94, V-2
Housing

---

Contatti
 
CuNi
Contacts

---

Range di temperatura
 
-30°C / 120°C
Temperature limits

---

Vite
 
M5; Zn + steel
Screw

---

Capacità di tenuta
 
CTI 1 (400-599); ≥ 175 V
Comparative Tracking Index

---

Sezione del cavo (unipolare ~ multi-trefolo ~ AWG)
 
6 – 25 mm2 / 6 – 16 mm2 / 10 – 4 AWG
Clamping Range (solid ~ stranded ~ AWG)

---

Lunghezza spelatura
 
13 mm
Wire Stripping Length